The Error Code 4 is displayed during the installation or activation.
MDaemon Technologies' activation servers support the following protocols, ciphers, hashes, and key exchanges.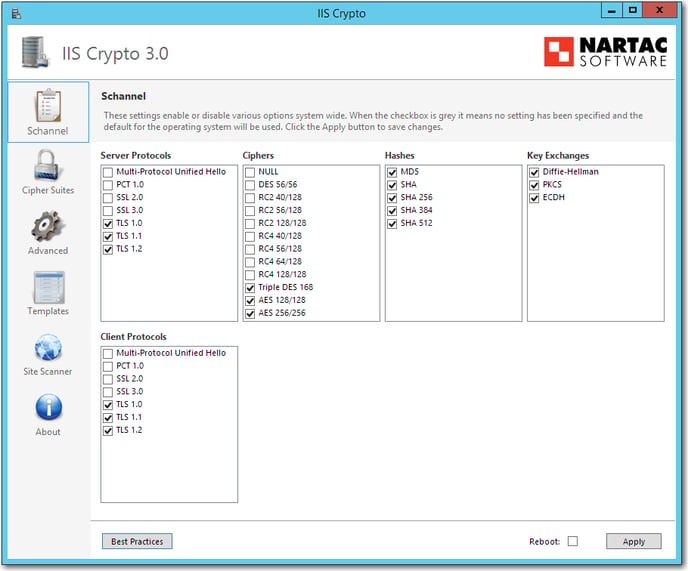 The image above is a screen capture of IISCrypto, developed by Nartac Software. This application allows MDaemon administrators to enable/disable security protocols, ciphers, hashes, and key exchanges on Windows 2008 and above in a GUI format.
As a part of the industry wide initiative to migrate from SHA-1 to SHA-2 SSL certificates, MDaemon Technologies will take proactive measures to further secure its software licensing system by replacing end-point and intermediate server certificates with SHA-2 SSL certificates.
Effective date of the new SHA-2 SSL certificate on MDaemon Technologies' servers: January 20, 2015
Non-current Windows Server 2003 and Windows XP operating systems could experience license activation or validation issues when attempting to communicate with MDaemon Technologies' software licensing system(s).
NOTE: Microsoft Server 2012 operating systems that are receiving regular scheduled (or manual) Microsoft updates should have already received the KB2868626 update and will likely require no further attention. It is recommended, however, that administrators verify that the update has been applied.
There are four potential reasons an Error Code 4 would occur during an installation or activation;
Port 443 unavailable
SSL Filtering
Installation is behind a proxy
Microsoft Security Update 2868626 has not been applied